REYKJAVIK, Iceland (TCM Newsroom) — 2017 represents a milestone for the TCM Group as we reflect and celebrate our 30th successful year in the global accounts receivable management industry.
It is a very special feeling that I have in reflecting on TCM's achievements from humble beginnings in 1987 when a small group of globally minded credit management firms and debt collection agencies, primarily located in the Pacific Rim, banded together to combat the rising tide of outstanding receivables and collection costs in international trade, which resulted in the establishment of Total Credit Management Group International – TCM Group International.
TCM's objective then and now remains the same, being to create a one-stop shop for companies, organizations, and individuals who are in need of international credit management solutions and global commercial and consumer debt recovery services.
Our founding members wanted to give their clients access to the combined experience and expertise of a cross-border, cross-jurisdictional network which was certainly achieved through the professional and ethical international debt collection and recovery services provided by our dedicated partners, so it is fitting that we recognise this achievement as we celebrate our 30th year as the leaders in the global accounts receivable management industry.
In recognition of this achievement we have created a celebratory "30 year" anniversary logo which depicts the TCM Group – Global Debt Collection logo opening up to reveal our 30 years as the global leader in the accounts receivable management industry.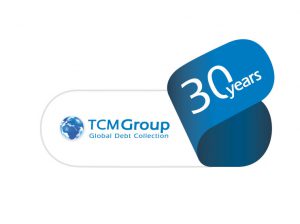 We are and will remain a unique global alliance of local debt collection agencies and specialized law firms, offering our clients a one-stop global shop for our clients.
Our Vision remains "To be number 1 in global debt collection and recovery, to reverse the culture of tardy receivables payment in international trade."
Supported by our Mission "To safeguard the health of our clients' cash flow, and their business relations with their clients, by leveraging local debt collection expertise together with specialist knowledge in global debt collection, cross-border receivables recovery, and international credit reporting for all economic zones, all client types, all debt sizes. To provide premier quality services in global debt collection and global credit management, conducted with integrity, cost-effectiveness, and best results.".
Our vast experience in global debt recoveries has taught us the value of turning local expertise into a global solution to what was an extremely difficult job for international credit managers, who were faced with the daunting task of international debt collection and recovery which is one of the most complicated and costly tasks their business was faced with. Thus our passionate pursuit to create and provide these international trading entities with the TCM solution – "local partners who speak the debtors language, understand local cultures and operate on local time zones, are globally savvy and the most suitable entities to tackle the complex global debt collection challenges our clients face" which has succeeded with us offering our global clients services that offer industry-leading quality, standard-setting ethical practices, and best results.
"Money knows no borders – neither do we" is synonymous with the TCM Group and this is reinforced by our representation through our 38 Members who cover an additional 50 countries, 1 Associate Member, 32 Agents who cover an additional 24 countries and 22 Service providers who cover an additional 5 countries, spanning every major economic region of the globe, we are in a unique position to deliver fast, effective solutions to the complex challenges of your global debt recovery problem—all on a 'No Win, No Fee' basis.
The global collaboration of TCM's 172 offices in 143 countries, from the Americas to Asia, confirms our dedication to being the leader in global solutions for our clients.
The development of our TCM Group private exchange network provides our client with the added benefit of data security and comfort that their invoices, contracts and any other documentation provided to the TCM Group will be totally protected whilst transmitted between our partners. Our client and partners avail of this leading feature.
Our annual TCM Group World Congresses are legendary with delegates flying in from all corners of the globe to unite with their colleagues in a warm and inviting environment. The world congresses ensure that we enjoy the sights, sounds and cuisine of our hosts whilst enjoying the business of the congress where we are updated on the years achievements, discussing the group requirements and share thoughts and actions in order to ensure we remain global leaders.
Through the initiative of Chunyang (Jeff) Li our TCM China member we introduced our Global Social Awareness Programme at our World Congress held in Beijing in 2013 in the aftermath of the Sichuan Province earthquake on the premise that those in positions of privilege and power have responsibilities above and beyond their professional or political mandates. The core initiative of TCM's Global Social Awareness Programme is an annual fund-raising event that takes place as part of the Group's World Congress. The funds raised through our annual auction go to a project / charity chosen by the TCM member hosting the World Congress. The beneficiaries of our Social Awareness Programme to date are : 2013 – Luyang No2 Elementary School (Sichuan Province, China) : 2014 – San Jose Foundation for Children and Mothers (Santiago, Chile) : 2015 – Meyer Children's Hospital (Florence, Italy) : 2016 – Dubai Cares (Dubai, UAE) : 2017 – Fund for the blind of Laski (Warsaw, Poland).
Our Group Chairman, Hubert Czapinski has been developing a world first in the global accounts recovery industry with many workshops and internal and external discussions with global insurance partners and brokers to finalise the TCM Guarantee Fund. The purpose of the TCM Guarantee Fund is to protect our members internal settlements between themselves and settlements between other members and external clients. This fund is unique to our industry and provides us with a distinct competitive advantage over our competitors.
TCM Group Website, over and above the introduction of translation of our website into Portuguese, Czech, Spanish, French, Chinese, Arabic and Polish we have introduced a world class Glossary of International Financial and Credit Terms. The meanings of words, just like the value of shares on the stock market, can be extraordinarily volatile. This is especially true in niche industries where the language of the trade is constantly evolving in response to new technologies, developments in national and international laws, and see changes in domestic and global economics. This is where our world class Glossary assists our visitors to our website.
Our group offices operate as hubs, processing claims placed directly with them or referred from other offices. Seamless integration of debt recovery operations between network offices means that we can deliver the most efficient and effective global debt recovery and credit information services available. Seamless integration also means we save on time and resources, and, more importantly, our clients benefit from minimial costs resulting in our superior services and team of wonderful experienced professionals.
Congratulations to each and every one who has made the TCM Group International the wonderful global success we are and may the next 30 years be even more successful.
Thank you and regards
Shaun Duncan
CEO